MSP Outbound Engine Built For You
Skyrocket Your Business Growth in 2023! 🚀
⌛ Limited Time Offer: Boost your MSP with our tailored outbound engine at an unbeatable price!
We build your outbound engine for you!
Are you ready to scale your MSP but struggle with time and budget constraints? We will build your marketing machine and fine-tune it to your needs with six months of email campaigns and sales calls. Then we'll hand over a ready-to-go machine that will print you $$$.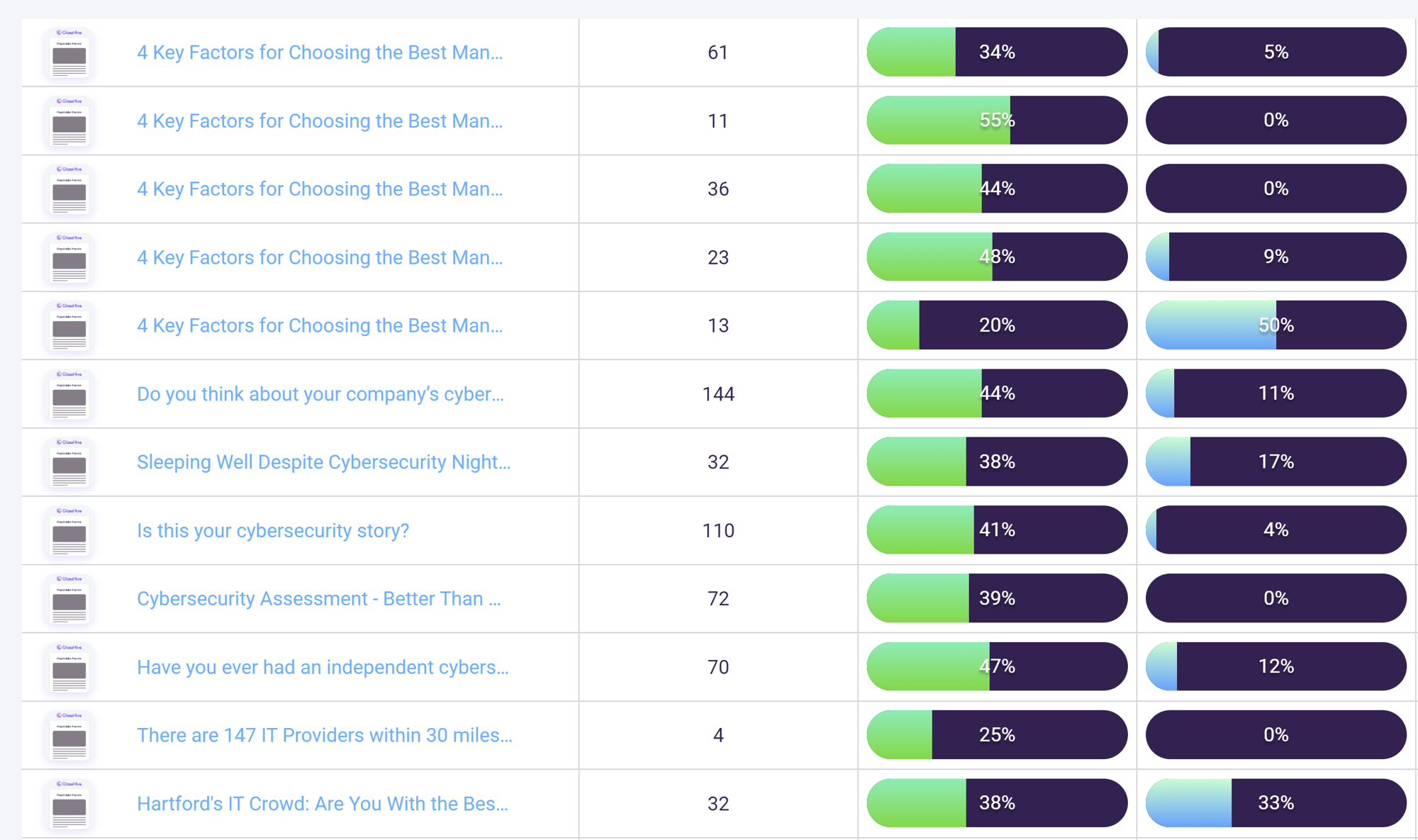 WHAT DO YOU NEED TO GET STARTED?
It's simple - Ideal Prospects and Someone to Chase Them
And a place to run your outbound engine
1.) We figure out who your best customers are. Let's find MORE of the 20% that bring 80% of the profit!
2.) We research hundreds of target contacts and score them to make sure they are YOUR "right fit" customers.
3.) We write out a custom, tailored email sequence to target your buyer persona. We speak THEIR language, touch on THEIR pain points, and map to THEIR desired future state. We position your targets as the hero of the story, and you as excalibur!
4.) Then a highly trained SDR starts calling, informed by who the warmest, highest priority leads are! With daily role-playing included, your SDR is armed with the skills to keep prospects on the hook!
5.) Last but certainly not least, we book meetings on YOUR calendar.
The best part? The entire CRM belongs to you (and it's tailor built for MSPs). Whether we continue to work together or not, you'll have an outbound engine ready to go.
🎯 Marketing Qualified Contacts (MQCs)
Target contacts that are the perfect fit for your MSP, not just any name.
📞 Dedicated SDR
Sales Development Rep managed by us, with daily roleplay & coaching for top performance.
📅 FMEs (First Meeting Ever)
We set up the meetings, you just show up and close the deal!
🔥 SQLs (Sales Qualified Leads)
High-quality leads that have been vetted and meet your specific criteria, increasing your conversion chances.
✉️ Monthly Automated Email Campaign
Customized, data-driven email campaigns that effectively engage your target audience and keep your brand top-of-mind.
⏰ Optimized Calling Hours
Strategically scheduled call hours to maximize contact and increase the probability of successful interactions.
🚀 Comprehensive Training
In-depth training and support to ensure your dedicated SDR is fully equipped to excel in their role and deliver results.
🎯 ICP Build
A tailored Ideal Customer Profile (ICP) created during the intake process to ensure we focus on the prospects that are the best fit for your MSP's unique needs and goals.
💥 Exclusive 6-Month Deals - Sign Up This Month for BIG Savings
Starter
$15000

$9900

Billed at $1650/mo
100 MQCs, 120 hours of dialing, and one monthly email campaign. Regularly $15,000, now just $9,900 split across 6 payments of $1,550.
This plan is best if you think you may want to stick with your current CRM and want us to provide support in defining your ideal client, finding their contact info, and getting them interested.
---
ICP Build
100 MQCs
120 hours of dialing from our Phillipine SDR team.
Copy for 6 Email Campaigns
Add GlassHive for $200/mo for up to 10 Users - or onboard us into your CRM for a $5000 onboarding fee.
Bonus Starter
$25,000

$14,100

Billed at $3000 down
$1850/mo
We build your outbound engine in GlassHive for you.

Sign up before the end of the month for 50% more MQCs and extra dialing hours. Get 150 MQCs, 140 hours of dialing, and one monthly email campaign for only $14,100 ($3000 down and 6 payments of $1850/mo).
---
ICP Build
150 MQCs
140 hours of dialing from best available SDRs (Phillipines, Brazil, or US)
One monthly email campaign
MQCs delivered in your CRM
We build your outbound engine in GlassHive
GlassHive included ($200/mo)
Most Popular
Starter Plus
$45,000

$16,200

Billed as $4500 down
$1950/mo thereafter
Unlock your MSP's full potential with this incredible offer.
Your outbound engine is waiting.
Get 200 MQCs, 160 hours of expertly optimized dialing, one high-converting monthly email campaign, 4 guaranteed FMEs, and a whopping 40 SQLs to supercharge your sales pipeline.
Don't miss out on this unbeatable opportunity to skyrocket your MSP's growth!
---
ICP Build
200 MQCs
MQCs delivered in your CRM
160 hours of expertly optimized dialing from a dedicated US-based SDR
Custom email follow-ups from your dedicated SDR
40 SQLs
4 Guaranteed Meetings
GlassHive included ($200/mo)
Dedicated SDR
We build your outbound engine in GlassHive, including one landing page, this month only!
BONUS: Sign this month for 32 hours of SDR Training and Coaching Sessions
Additional Fee: $100 per qualified meeting set after the first 4 meetings. This fee goes directly to your dedicated SDR to help combat turnover of our best reps.
Add Ons to Take Your MSP to New Heights
ONLY KEEP WHAT YOU NEED
Say goodbye to overpriced, clunky lead generation
What You Keep

What You Don't Keep

Free Sample Offer

Limited Time - Sells Out Fast
A List of Target Contacts (MQCs) in YOUR CRM
Highly trained and managed SDRs (You Can Even Hire Them To Your Company!)
Meetings with handpicked prospects
Momentum through 2023!
Customized monthly email campaigns
An outbound engine built in GlassHive
All contact and activity data
One Size Fits All Solutions
Investments With No Return
Permanently Burnt Domain
Damaged Brand From Pushy Sales People
FREE Sample Offer:
Let us show you how our process works with a FREE sample! Give us your top 5 target companies, and we'll spend a few days setting up a meeting for you. No catch, no obligation - just a demonstration of our proven strategy!
Hurry - we're only accepting the first 10 enrollees! Last time, spots filled up in under an hour! To join and see if you qualify, simply book a call to learn more (we'll save your free trial space).
How do you identify Marketing Qualified Contacts (MQCs) for my MSP?
We create a tailored Ideal Customer Profile (ICP) based on your MSP's unique needs and goals. This helps us identify and target the perfect prospects that are the best fit for your MSP. We use the parameters we set together to leverage contact data tools like Apollo.io to find the best contacts for you. Then we use verification software like Mailfloss to ensure these are strong contacts!
Beyond all that, our highly trained SDR and admin teams work diligently to research and score each lead, making sure they're worth spending your dialing hours on!
What is the role of a Sales Development Rep (SDR) in this offer?
The dedicated SDR's main responsibility is to engage and qualify leads, set up FMEs, and ensure a seamless handover of the sales process to your MSP team. We work with them every step of the way to ensure they're representing your brand well. They aren't "heavy selling" they are just generating interest based on your offering.
How do you ensure the quality of the SDR's performance?
We provide in-depth training and support, including daily roleplay and coaching sessions, to ensure that the SDR is fully equipped to excel in their role and deliver results. In rare cases, we replace an SDR that isn't performing well.
How do the monthly email campaigns work?
Our copywriting team will create customized, data-driven email campaigns designed to engage your target audience effectively and keep your brand top-of-mind. We will send one campaign per month as part of the package you choose.

Spoiler Alert: We often include a full sequence per month for our clients - if you're very nice to us ;-)
This copy is at the very least reviewed by our head copy writer and Chief Consultant, Megan Killion. It is written for your clients, in their language. It takes into account their pain points, desired future state, top priorities and persona. It's data-informed with the latest info from industry leaders such as Gong and Lavender.
In short, we're writing copy that converts.
What is the difference between an SQL and an MQC?
An MQC (Marketing Qualified Contact) is a prospect that meets the criteria of your Ideal Customer Profile. An SQL (Sales Qualified Lead) is a high-quality lead that has been responsive to your campaigns and meets sales criteria, increasing the chances of conversion.
What if I'm not satisfied with the results of the Starter Plus package?
Our goal is to provide the best possible service and help you grow your MSP. If you're not satisfied with the results, we'll work closely with you to understand your concerns and make adjustments to improve the outcomes.
How soon can I expect to see results from these packages?
While results can vary depending on your MSP's specific situation, you can typically expect to see an increase in leads, FMEs, and SQLs within the first few weeks of implementing our services. We'll continuously optimize our strategies to maximize your results.
What if I sign for Starter Plus and Don't receive 4 FMEs?
There are two options:

1.) We'll refund you back to the Starter pricing.
2.) We'll keep working for an additional month for free!
What if I have my own sales staff?
Do I have to buy it all or can I mix and match?
You can absolutely buy these things separately but this deal is a STEAL.

Custom ICP Scoring Build: $5000
Marketing Qualified Contacts Scored: $15/contact
160Hours of Cold Calling (Daily Trained Philippines Team): $6000
160 Hours of Cold Calling (US-Based Team): $8000 + $250 per meeting booked
Email Copy: $500/email
Email Sequence (8-15 Step Sales Sequence): $5000/sequence
Buyer Personas and DISC Profile Research: $1500/sequence
GlassHive Administration: $15/hour
I already have a list and a script - can you just dial?
We can, but I don't promise your script or list will be effective.


JUST cold calling ranges from $800-5000/mo depending on the experience of the caller, their geographic location, and how many hours you want us on the phones for you.
One team for all your revenue scaling needs